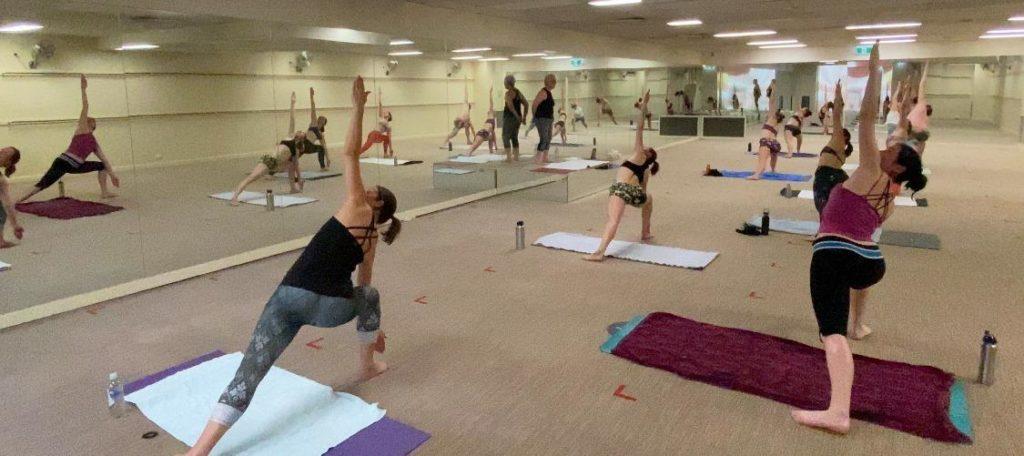 Location:

Melbourne, Australia

Services offered:

Bikram Yoga

Most-valued Glofox feature:

Glofox App
About Bikram Yoga Fitzroy
Susan and Michael Houghton are the owners of Bikram Yoga Fitzroy in Melbourne, Australia. 'Bikram' is the original style of hot yoga, and the studio has been providing this to students for over 15 years. In 2005 when the business first opened, it was one of very few studios specializing in the Bikram practice in Melbourne.
As a pure Bikram Yoga studio, Bikram Yoga Fitzroy's instructors teach only the original 90-minute practice: 26 postures and 2 breathing exercises in a room heated to 40C, with 40% humidity, on a floor surface that reduces the risk of injury through slipping.
Michael and Susan carved out their niche in the local market early on. While today, Melbourne is home to many yoga studios providing various forms of practice, Bikram Yoga Fitzroy is one of the only pure Bikram studios. The studio's unique appeal and success lies in this specialized offering.
"The app that Glofox provides works so well, and our students like it so much. It's one of the best features for our clients."
The Challenge?
Finding an easy-to-use software solution with features to streamline operations and create an excellent member experience
Before Glofox, Michael and Susan faced frustrations with their old software provider. Rather than supporting the business and its community of students, it created unnecessary admin and was very difficult to use:
"It was a software that consisted of lots of bits and pieces put together to create this big complex thing. Every time you did something, it took so long to refresh; it was a very cumbersome process."
As Covid-19 came along and forced the business to adapt, Michael and Susan faced new frustrations. They were becoming increasingly disappointed with their experience:
"When Covid-19 came along, we converted from studio into online classes. We were trying to get help through that time, but it became increasingly difficult to get support from our software provider. Everything was becoming more frustrating; the poor support and a difficult to use system that was getting more complex by the day."
Aside from the lack of support throughout this time, the software lacked the features needed to help the business move online seamlessly:
"We had to get a separate system that linked the software to Zoom to facilitate online bookings. We had to struggle through getting everything set up online in the first lockdown."
Michael and Susan were also let down by their member app:
"We ended up turning off the app that the software provided because it wasn't unique to our business. It would showcase other local businesses, using the same software, to our own students. It was putting other studios in front of our clients; it wasn't helping us build loyalty."
With consistent problems and frustrations piling up, Bikram Yoga Fitzroy needed to find a better solution to help the business succeed instead of hindering it.
How Has Glofox Helped? Providing a user-friendly experience that streamlines operations and enhances the member experience
Before Covid-19, Michael and Susan had never planned to provide online classes at Bikram Yoga Fitzroy. Moving to Glofox empowered the business to run efficiently online:
"When we transferred to Glofox, it was so much easier to set up the online classes; it really helped us. We could easily designate a class as online, and it was straightforward to set up the online presence."
Combined with the Glofox App, booking online and in-studio classes is a simple and seamless journey for members:
"The way it's set up – it works really well. I like the ability to add a photograph of each class type to the app because it makes it easy for students to see which classes are online and which are in-studio."
The app has quickly become one of the business's most appreciated Glofox features. Pre-Covid, students weren't required to book online. People would just show up at the studio for class, and teachers would tentatively wait before starting a session in case anybody showed up last minute. Glofox has cut the admin time surrounding this in half, and Michael and Susan will never look back:
"The app makes it so easy for people to buy passes and book classes. Our check-in time has been streamlined to 15 minutes because teachers know exactly how many people are coming in; it's cut our admin time in half. We will never go back to just having people casually come in. The app has proven that it's the easiest way for us to run the business."
Aside from improving operations for the business, the Glofox App delivers a sleek member experience that increases bookings and ultimately drives growth for the business. Looking over the last 6 months, comparing November 2020 to April 2021, class attendance has grown by over 100%.
"The app that Glofox provides works so well, and people like it so much. It's one of the best features for our clients."
What's Next for Bikram Yoga Fitzroy?
Since reopening, the business has sustained steady growth in recent months and is already above 50% of its pre-covid turnover. The success of Bikram Yoga Fitzroy's digital classes has been a fantastic way to engage students and bring their community together. Michael and Susan plan to expand their digital presence in the future by live streaming all studio classes online to give their community even better access:
"We're back up to over 50% of our pre-covid turnover, achieving that with less than 50% of our pre-covid attendance numbers. Our online classes have really helped us keep people engaged, and we'll continue providing them, because they help bring our students together."
Focusing solely on pure Bikram Yoga has helped Michael and Susan build a tight-knit community of like-minded students. The business will continue with its specialized offering and plans to develop new strategies to expand to an older audience demographic:
"Since covid, our community is more cohesive. And that's largely because everybody practices the same type of classes. Bikram is our niche, and we will continue to provide it in its pure format."
Get a quote
Take advantage of our flexible pricing structure. We'll show you the product and answer all your questions in 30 minutes.
Cut costs by 50%. Save thousands with glofox, compared to other management platforms.

Increase revenue by 133%. Our average customer more than doubles their revenue within eighteen months of implementing our platform.

Easy to understand pricing with no surprises.